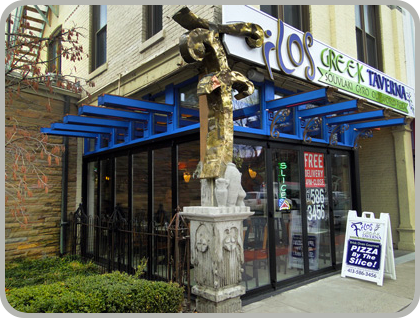 About Us
Konstantinos & Sunita Sierros met at A-1 Pizza in Florence where Konstantinos's family has been in business since 1983. Sunita was an economics major at Smith and Konstantinos was just starting out with the family business. They both fell in love with the area (and each other) and decided that this was the best area to work and raise a family in, so they made the commitment to stay here. That was nearly 22 years ago. Since then, they have owned and operated Florence Pizza in Florence and Paisano's Restaurant in Southampton.
The oven was brought over
from Greece brick by brick
Adding pizza to our menu was a no brainer. After all, we are "pizza people", its what we do and have done all our working lives. But this pizza is significantly different from what we have offered our patrons before. The oven was brought over from Greece brick by brick and the two inch thick lava stone which cooks the pizza rotates around in a circle so that there is no "cold spot" anywhere on the pizza. You get a fresh hand stretched made to order pizza within 5-6 minutes. This way you can purchase an entire pizza (10" small or 16" large) while you wait to eat in, take out or have it delivered to your home or office quicker than any other restaurant!
"Old World" Food Experience
We hired two very knowledgeable twin brothers with 15 years on the job experience (each) from the famous Amherst pizza scene to be the integral part of our "Old World" pizza operation. They have made it possible for me to offer well known pizza such as "BBQ Chicken Bacon Ranch, Margherita Fresh Mozzarella Tomato Basil, Spinach Portabella, Florentine, Tortellini, as well as introducing new selections such as Gyro Pizza, Vodka Padovana Pizza, and Carmelized Pear-Prosciutto and Bleu Cheese. All of these can be seen and purchased by the slice in our 15 foot glass display case as you walk to the rear of the restaurant.
Taking and eating a slice of pizza while walking down Main Street is what is done here in town, but now you can do it with a pizza slice that no one has ever seen the likes of around here!
A sampling of Greek signature dishes, appetizers and desserts we offer:
• The Gyro
• Pork, chicken or kebab souvlaki in a Greek pita wrap
• Moussaka
• Lamb shank in orzo
• Vegan Stuffed green peppers
• Lamb burger platter
• Pastitsio
• Stuffed grape leaves
• Taramosalata spread
• Octopus salad
• Spanikopita
• Avgolemono soup
• Greek yogurt with rose petal jam
• Fried dough loukoumades

Our favorites are the lemon roasted potatoes, spinach rice and the five-spread sampler!